Betty Sez:
October, 2010
We are mixing a new song!

Call 'Em Out

, one of the last songs recorded before we moved east, got some guitar tracks added by Trevor recently when he was in town. We'll be releasing it soon online (or on 7"!)
We're also scouring all our video archives, and we'll be posting some cute from memorable shows. The first is DRIVEN from the late great Cobalt:
European (EU) ORDERS:

Both CDs
can now order directly from CIEL ROUGE


FOR ONLY 8 EUROS!!
France
CIEL ROUGE
R. Jean-Jacques Rousseau 62
DIJON, FRANCE 21000 (map)
Nov. '08
- A big Hallo to you from Shannon, back in Amsterdam, on the way to France (Dijon, Chalon-sur-Saone) to sample more euro-winter. Currently sampling all the best A'dam has to offer, and getting about on a big girly old coaster bike that pedals backwards to brake (like when I was eight). Seriously, you can get some decent speed up on those suckers. Keeping up my chops at The Jam Studio rehearsal space, great facility (Bettie Serveert practices there, but it's no Faceplant!).
Very pleased to report our new CD is charting (again), #7 on CJSF-FM! So both college radio stations in the Vancouver area (CiTR(UBC) and SFU(CJSF)) have placed Bent Outta Shape on their top tens, and as far as we know, the CD is still unreviewed. Airplay good! Thanks to everyone who's playing or requesting our tunes.
Trevor just did a solo set at Hoko's on Nov.13th as The Rain and the Sidewalk, part of the Down the Lees CD release show. Lisa and Ryan continue to work on their new material, and I'm hoping to get some combination of us over to Europe in 2009. Miss you guys!!
I'm really looking forward to meeting up with old and new friends over here, seeing what new ideas emerge and exploring the more obscure venues and musical scenes in eastern France particularly (I know you're out there...).
Bent Outta Shape is slowly increasingly available - a few copies are in Ottawa, now, at Compact Music on Bank St., and we'll be posting a list shortly of some of the fine record shops in Amsterdam, Dijon and Besancon (for starters). Also available of course from my favourite specialist in the 'long tail', mclean records.
Cheers, Betty Shannon
July/Aug. '08
- Our latest CD, Bent Outta Shape was just officially released on July 11th at the venerable Astoria Hotel pub on Vancouver's East Side (decent room, great neon sign). Thanks to the folks who came out and partied with us and to Buckle Up Russia and Nosebleeder, our guests. That's the second show we've played with Nosebleeder - this 4-some is always good fun; solid musicianship with knock-out punches delivered regularly, lotsa tongue-in-cheek. We got a bit cheeky ourselves: our latest number You're So Fake (aka. Betty Kracker Jumps the Shark), kind of a My Sharona inspired messy jam groove number, reached new levels of snark and extreme entropic disarray that night. It may surface on a 7" soon. My apologies to the table in the back.
Our CD sales outdid our door that night (!). No 'sophomore jinx' here... I believe Ryan's incredible cover art had a lot to do with it, and it's flying off the shelves at FacePlant, the studio where it was recorded.

Bent Outta Shape can be found in your friendly neighbourhood Vancouver independent record store, or ordered online from www.mcleanrecords.com.
Cheers, Betty Shannon

The Songs
The seven tracks on the CD include three new original Betty Kracker songs, Shake, Elephants & Coral and the title track Bent Outta Shape. Fickle, a tune from the original set, has never been recorded (other than at Betty Kracker and Shrimpmeat shows). Mighty Mighty first appeared on Shrimpmeat's debut CD in 2001, 100% ep. Alien to Me, likewise, is from the Arthur Ellis 2000 album Alphomega. And the final track, 'Interzone', is a nod to the post-punk roots of the band, Shannon and Trevor having been weaned on Joy Division.
Most Betty Kracker songs are the results of a collaborative effort between one band member as composer, and Shannon as lyricist/arranger, with a few exceptions.
Look for a lyrics page on this site, in the near future.
The Process
The beds and overdubs were recorded by Mike McLean (grrrabbit productions) at FacePlant over the fall and winter of 2007-2008. During a winter trip to France, Mike recorded a track of Shannon's vocals for Elephants & Coral outdoors at the foot of prehistoric natural monument, Roche de Solutre in Burgundy, France. This track alternates with the studio track on the CD. McLean also mixed and mastered the final product.
Airplay!
The title track debut on radio a mere 8 hours since it was mixed, by dj Oswaldo on his The Morning After show on Vancouver's CiTR radio! If you visit the station's site, you can hear the song and a nice interview with Betty Shannon in their archives (http://www.citr.ca/podcast.php; look in the Eclectic section 07/08/2008).

Interzone has also been played locally a few times. We're mailing it out to radio as you read this; drop us a line if you haven't gotten one, radio folkz!
The first run is more than half sold already, but we're gonna make more!

June. '08 - WE CAN HAZ MERCH!?? Here!


Jan. '08 - Well, a Scrappy New Year to you too! I'm not late, I'm just celebrating the Chinese New Year - at least as much fun, here in Vancouver (love those crashy bashy lion and dragon dancers - some day maybe I'll get a shot at one of those particular 'drum kits'!). Gung Hay Fat Choy!

We did end 2007's live show season with a bang, a surprise opener September 29th for legendary punk band The Subhumans, who were touring last fall with the fab Motorama (so we got to play with them again, too! Lucky Betty!). A fantastic show, and we're very grateful to Low Down Dirty Dave for considering our stuff worthy enuff.

Then one Betty went to play at being Eurotrash for a few months - Shannon got to go hang out with Mike M. in Amsterdam (hi, Mara!), Brugge (Hallo to The Crash) and various locations in France, most notably Besançon (salut, Le Bastion et à Jean-Louis de Vinyl Dreams), Mâcon (salut, Cave à Musique et Dundee's), and in the Dordogne (salut aux Robeys!). Made a lot of contacts for a possible Euro tour in the fall .

Also very notably on the Costa Brava we got to meet up with Dion T., wandering minstrel and former guitarist with Sponge, a psych-jam band he and I played with in Edinburgh, UK 20 years ago. Great to see you, Dion!

Then back to Canada for a couple weeks in the very snowy Ottawa area (Hi, Birdman Sound and Compact Music) for seasonal fattening with family and long-time friends.

The remaining Betties, Lisa, Ryan and Trev, kept the practice room at FacePlant warm while I was away, weaving audio spells. Trev played a couple The Rain and The Sidewalk shows, and has been working feverishly on the latest two TRATS releases, the Inanimate remix CD (Redundant) and the to-be-named new CD featuring Shannon on vocals.

Good to be back in Vancouver always, with buddies and bandmates, and of course we're right back at 'er, with a new CD in the works, that we recorded about 90% of in the late summer/fall of 2007 - should be released within the next few months! Featuring brand new songs by Betty Kracker, and a couple of surprise 'extras'.

The next confirmed Betty Kracker show will be at the fabulous Railway Club on Thursday March 13th, and we're very happy to be playing there with The Feminists, who are just releasing their own no doubt brilliant CD (come to their release party at The Media Club on Sat. Feb.9, 2008 with The Smears, Swan Vista and Portico).

We'll keep the sites updated with spring shows as they're booked and the progress on the upcoming CD release.

Lastly, we 're gonna have MERCH real soon too! More on that later!

Please contact us directly or through grrrabbit productions, if you want to book Betty, are an interested label, or wanna come out n play with us!

xxoo Betty Shannon

click here for old news!!




listen to tracks on the MP3s Page




pix and stuff for media
BENT OUTTA SHAPE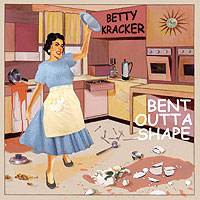 CDEP
$9.00
buy the CD online
or buy the mp3s @ Soundclick
or from the shops (see below)

(you really should get it at the stores - it'll get you out of the house)
EASY BAY COVEN


click to buy online


$9.00



"...They come on like SLANT 6 mixed with SIOUXSIE AND THE BANSHEES: spooky guitar lines and echo-laden vocals from all four members. It's got a definite SoCal vibe too... some of these songs could fit right in on the SUBURBIA soundtrack!
Pop and punk, yet not pop punk, know what I mean?"
- MAXIMUMROCKNROLL, 03/2007



"...crunchy, delirious punk infused with hectic melodies and sludgy downbeats. ... a flourishing EP that is full of the contorted contradictions and turbulent risks that Betty Kracker pull off flawlessly."


- Exclaim Magazine, 02/2007

"...Guitars ring in all the right places, drums pound appropriately, bass undulates and the vocals careen over top of the smartly arranged and well-written tunes."


The Nerve

, November
"...Taking their cue from those fine bands (Frightwig, Avengers), and chucking some Crass and X into the mix, Easy Bay Coven serves up a righteous old school Garage Punk smack upside the head. It's good to see some women back in the slam pit."
Red Cat Review
BUY BETTY KRACKER STUFF HERE:

FRANCE
CIEL ROUGE
DIJON, FRANCE 21000 (map)
BELGIUM
Recycled Records
9000 GENT (Ghent), Belguim (map)
CANADA
Ottawa
Compact Music - Downtown
Compact Music - the Gleibe
Vancouver
Red Cat Records
Scrape
Zulu
Audiopile Records
PAST SHOWS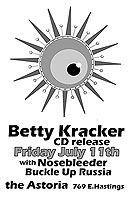 07/11/08

BUCKLE UP, RUSSIA

NOSEBLEEDER!!

THE ASTORIA HOTEL
769 E. Hastings, Vancouver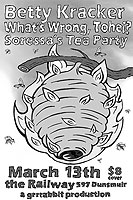 03/13/08
with
WHAT'S WRONG, TOHEI?
SORESSA'S TEA PARTY
THE RAILWAY CLUB
579 Dunsmuir, Vancouver
a grrrabbit production


09/29/07 - PUB 340
opening for the SUBHUMANS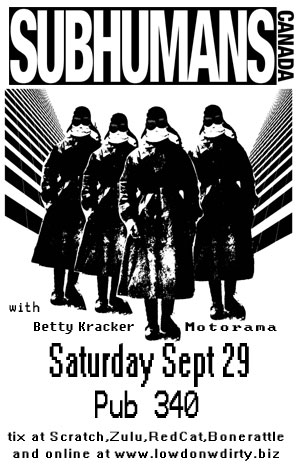 MOTORAMA
a Low Down Dirty Production

05/26/07 - Railway Club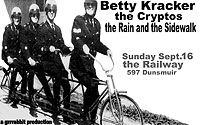 THE CRYPTOS

THE RAIN AND THE SIDEWALK
a grrrabbit Production

SATURDAY, MAY 24th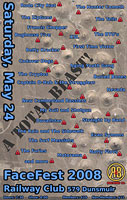 FACEFEST 2008!
25 great Vancouver bands!
THE RAILWAY CLUB
579 DUNSMUIR, Vancouver


AIRPLAY
Easy Bay Coven has CHARTED on:
PHC Radio!!
CHUO - Ottawa - 89.1 FM
CJSR Edmonton, AB - 88 FM (#26 01/30/07)
CiTR Vancouver, BC - 101.9 FM (#13 01/23/07)
CJSF Vancouver,BC - 90.1 FM (#15 12/19/06)
and has been played on
CFRO Vancouver - 102.7 FM
C-FOX - 99.3 FM (Punk-o-rama) Vancouver
104.5 FM - Santa Fe, ARGENTINA!
NASHVILLE, TN, USA

RADIO APPEARANCES
Thunderbird Radio Hell - (live on CiTR Radio)

TV APPEARANCES
Global TV - Vancouver (part of FaceFest X promo)
CBC Television - Vancouver (Citizens Rule CD Launch promo)