NEWS

BK reside in different cities at the moment, but should they relocate, they will be back!
Contact via BandCamp to buy physical CDs; there are only a few left!

03/2014
Just heard the song 'COOL' from the first EP Easy Bay Coven
is getting airplay in Las Vegas on TJ's Music Bridge and in Manchester, UK on
Museboat Below Decks with Pedro and Powlo
on the MuseBoat network!
Thanks!

10/2011 - video of the song SCW (Social Class Warfare)
Created by robotsmakesushi -
a tribute to the Occupy Wall Street/Occupy Everywhere event on 10/15/2011

please watch it, 'like' it, share it - spread it around!

05/2011 - Interzone makes Cover of the Week on the Joy Division Central mega fansite!

10/2011 - Both Betty Kracker EPs are now available
digitally through ViciousMini/BandCamp!!

Buy the CDs from

BandCamp

EUROPEAN (EU) ORDERS:


All CDs can be ordered directly from

CIEL ROUGE

in Dijon (FR)

About

BENT OUTTA SHAPE


Charted:
#7 on CJSF-FM


#10 on the

CiTR-FM

Second pressing (First pressing SOLD OUT in about 3 weeks)

Who plays what:
Vocals/Drums: Shannon Hallett
Rhythm Guitar/BG Vocals: lisa e.
Lead Guitar/Vocals: Trevor Thompson
Bass/BG Vocals: Ryan Karl Schmidt

Produced by: Mike McLean and Betty Kracker
Engineered by: Mike McLean
Recorded @ Faceplant, Vancouver and Roche de Solutre, Macon, France
Nifty cover painting by Ryan Karl Schmidt





About

EASY BAY COVEN


Charted:


#7 on

CJSF-FM


#10 on the

CiTR-FM

Who plays what:
Vocals/Drums: Shannon Hallett
Lead Guitar/Vocals: Nevada Santiago
Bass/BG Vocals: Regina von Kracker
Rhythm Guitar/BG Vocals: lisa e.


Produced/Engineered by: Mike McLean
Recorded @ Faceplant, Vancouver
Mastered at the hive by Stuart McKillop
Cover by dollymomma (Tanya Van)

REVIEWS
"...They come on like SLANT 6 mixed with SIOUXSIE AND THE BANSHEES: spooky guitar lines and echo-laden vocals from all four members. It's got a definite SoCal vibe too... some of these songs could fit right in on the SUBURBIA soundtrack!
Pop and punk, yet not pop punk, know what I mean?"
- MAXIMUMROCKNROLL, 03/2007


CDs also available in the shops in Vancouver, Ottawa, Toronto, Dijon, FR and other cities

More Reviews:
"...crunchy, delirious punk infused with hectic melodies and sludgy downbeats. ... a flourishing EP that is full of the contorted contradictions and turbulent risks that Betty Kracker pull off flawlessly."
- Exclaim Magazine, 02/2007
"I like all the BETTY KRACKER songs!!!!! The songs are powerful and spectacular!!!!!!!!! The band sounds fantastic!!!!!!"
- GUILLERMO PEZ,
Santa Fe 104.5 FM
Santa Fe - ARGENTINA
"...It was definitely a 'chick album', but a decent one."
- Absolute Underground, 02-03/2007

"...Guitars ring in all the right places, drums pound appropriately,
bass undulates and the vocals careen over top of the smartly arranged and well-written tunes."
The Nerve, November

"...Taking their cue from those fine bands (Frightwig, Avengers), and chucking some Crass and X into the mix, Easy Bay Coven serves up a righteous old school Garage Punk smack upside the head. It's good to see some women back in the slam pit."
Red Cat Review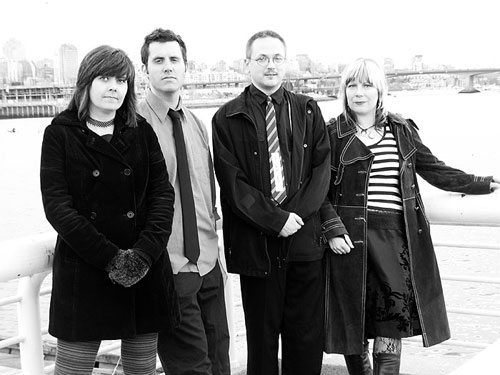 Shannon Hallett
drums & lead vocals
(The Rain and The Sidewalk, ex-Sanne Lambert Trio, ex-Shrimpmeat, ex-Arthur Ellis 2000)
lisa e.
guitar and backing vocals
Trevor Thompson
guitar, backing vocals

(The Rain and The Sidewalk)
Ryan Schmidt
bass
(ex-Salmon Arm, ex-Motorama)
The Story
Mix equal parts punk, new wave, pop and rock, blend furiously, and bake at wicked high heat until crunchy!
Betty Kracker kicked off their live music takeover of Vancouver in 2004 at FaceFest, at the Railway Club (dozens were slain, appreciation flowed). Dozens of shows in the Vancouver area ensued. The song "S.C.W." was recorded soon after at FacePlant for the Red Cat Records anti-Gordon Campbell (BC premier) compilation Citizen's Rule, released in spring of 2005.

The debut ep Easy Bay Coven was released in October 2006 to national acclaim (The Nerve, Exclaim, MaximumRockandRoll, Absolute Underground all loved it).

The last part of 2006 was a period of songwriting and some changes; a case of band 'mitosis' occurred. Nevada Santiago is in the process of recording new song creations as 'Gnash Rambler', with Regina and drummer Brad Mitchell (Facepuller), J.T. Massacre (Big John Bates, Slickjacks, ex-Pet Fairies).

Shannon and lisa e. continue with new songs and welcomed to the band new members Trevor Thompson (The Rain and The Sidewalk) on guitar, backing vocals and Ryan Schmidt (ex-Salmon Arm, ex-Motorama) on bass.

The new line-up debuted at Facefest 2007 on May 26th to a packed Railway Club, and the band has performed regularly through the last couple of years.

Betty Kracker released Bent Outta Shape in 2008. the seven-song CD moves into more of a postpunk vein, while retaining the punknroll edge. It also contains a kickass cover of Joy Division's INTERZONE, which was named 'cover of the week' on the Joy Division Central website in May!

Shannon is recording with Trevor's The Rain and the Sidewalk project, and Lisa and Ryan are recording their own project as well as creating some mind-blowing visual art.

No performances are booked for the moment, as Shannon has relocated east.
However, it is not the last you'll hear of Betty Kracker...

Links


Easy Bay Coven - 6-song EP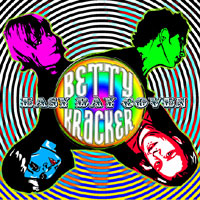 TV APPEARANCES
Global TV- Vancouver (part of FaceFest X promo)
CBC Television - Vancouver (Citizens Rule CD Launch promo)

RADIO APPEARANCES
Thunderbird Radio Hell - (live on CiTR Radio)